Lathes.co.uk Home Page   email: sales@lathes.co.uk
Machine Tools For Sale & Wanted Wood Lathes for Sale Lathe Buying Advice The Lathe - Parts Identification
Instruction Books & Manuals    Machine Tool Catalogues Lathe Use - Hints and Tips  Electrical Matters Flat, Round & Link Belt Supplies  
Lathe & Home-workshop Books Lathe Accessories and Spares Screwcutting Fitting a New Chuck
LATHES.CO.UK
FLAT BELTS - ROUND BELTS - V-Belts - 'T-LINK' (Brammer) BELTS
Lathe Belts - SPECIALIST BELTING – Machinery Belts, Straps and Bands
 all types supplied: V, flat, round (leather & plastic), link, variable-speed, poly-V, etc. Miniature V-belts (6 & 8mm top widths) and the special belts for: Axminster 918,
Warco 918 (and similar developed copies of the Emco Compact 8), Naerok and Seeley bandsaws, etc.
Belts also stocked or made for a variety of popular Lathes & Millers: Myford, Boxford, Emco, Unimat, Axminster, Warco, Colchester, Harrison etc.

For immediate delivery or technical advice about any belt fitting (no order too small)
just phone: 01298-871633 or order online here   
<![if !supportLineBreakNewLine]>
<![endif]>
From the EU: 0044-1298-871633   From the USA & Canada:  01144-1298-871633
Other countries: **44-1298-871633  Office hours 09:00 to 23:00 GMT
lathes.co.uk
Wardlow - Tideswell - BUXTON - Derbyshire - SK17 8RP - United Kingdom
   World-wide service – all credit and debit cards accepted
ONLINE ORDERING for belts is now possible - click this link to be taken to the correct page
We can supply any type of flat belt in any width (even very narrow ones from 2 mm wide to several metres across) - for any application made either endless or with a joiner. Many machine tools produced with such drives are still giving faithful service but the older types of belt, made of leather, canvas, etc., tended to exacerbate problems associated with this type of installation, being either too thick and inflexible, difficult to join, easily broken, noisy or affected by contaminants. The new materials now used for flat belts give better grip, less stretch and have a much longer life. Modern flat belts are different again and their inherent qualities of silence, high-speed, vibration-less, running round small pulleys, safety and reliability are appreciated by designers of high-speed tool-room lathes, grinding and drilling machines.
The ideal installation for any machine tool is an endless Betalon-Multiply belt; these are light in weight but immensely strong and stretch resistant. They absorb shock loads well, have a high coefficient of friction, enjoy a proven record of reliable industrial service and can be made in almost any combination of length and width. The belt joint is machine scarfed, prepared and heat vulcanised - and results in a tremendously strong unit. Of course, as with an ordinary V belt, you may have to dismantle pulleys, etc., to fit it, but the trouble taken will be well worth while - the drive to your machine will be quieter, smoother and much more reliable. This belting can now be supplied with the ends scarfed, the glue and instructions for you to make a DIY join. Order online here
Traditional "claw-fastener belts" in "Super Tensile" are also available. This belt (unlike cheaper alternatives cut from conveyor belts) is enormously strong, densely woven and specially designed for machine-tool use. The package you receive includes the belt, the clips, the joining pins and the simple (but often misunderstood) fitting instructions. Order online here
Also available separately:  "Alligator" fastening clips and links in individual 11-inch (280 mm)  lengths for use with flat belts  in a variety of sizes:
No. 15 for belts 1/8" to 5/42" (3 to 4 mm): No. 20 for belts 5/32" to 3/16" (4 to 5 mm): No. 25 for belts 3/16" to 7/32": No. 35 for belts 9/32" to 5/16" (7 to 8 mm) Order online here
<![if !vml]>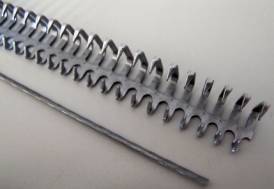 <![endif]>
<![if !supportLineBreakNewLine]>
<![endif]>
FIT YOUR NEW ENDLESS BELT WITHOUT DISMANTLING
We can supply a length of flat belt with the ends scarfed for the overlap and the necessary glue. Make up a simple press (two metal plates and a small G clamp are sufficient) string the
belt round its drive-line - off the pulleys and slack. Apply the glue, align the belt ends, clamp together and apply 120°C heat from a hairdryer or similar for 30 minutes. Allow 30 minutes to cool and the job is done.
Also available separately: **************************************************************************************************************************************************************************
V-belt "T-link" Belting: order online here
<![if !vml]>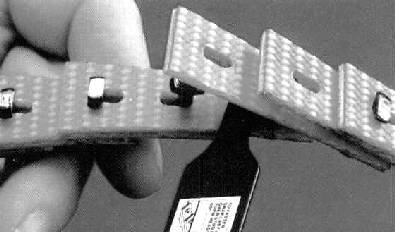 <![endif]>
<![if !vml]>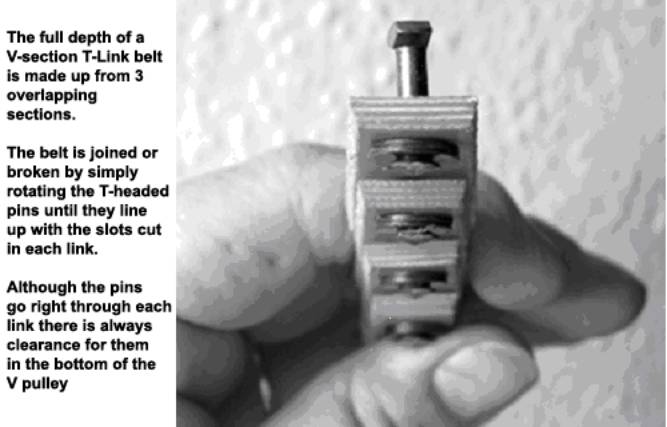 <![endif]>
Once commonly know as "Brammer" this type of V-belt (it cannot be used on flat-belt drives) is widely used in industrial and marine applications. Although more expensive than ordinary V belts it does have some important advantages:
* It can be installed without having to dismantle the drive system and spend hours pulling apart well set-up or bedded-in components.
* It helps to prevent a drive system reaching a resonance frequency and is recommended where the transmission of vibration from the motor or other sources is undesirable - in precision grinding machines and high-speed lathe spindles, for example.
* It is of very high quality and claimed by the makers to have an improved shock-loading capacity and better abrasion, oil, chemical, damp and heat resistance in comparison with an ordinary V belt.
* It fits all standard pulleys - there is no need to replace or modify the existing setup.
* Adjustments to tension can be made without having to move pulley apart or together.
It is available in all normal sizes and comes in a variety of types; these are:
Nu T-link - click the link to go to the order page
This is the replacement for the original "Brammer" black-fabric "round-end" link-belting that was held together with mushroom-headed metal pins each (usually) stamped with a letter "B". The new belts have only a slight curve to the end of each link and the head of the pins are now "T" section. The addition or subtraction of individual links has been made much simpler and safer: instead of having to stretch open the belt holes with special pliers and force each pin into position, the holes in the belt links are now in the form of long slots and the T-pins can be turned quickly and easily through ninety degrees to slip through them. The latest version of the belt has improved resistance to oil and steam contamination.
Power Twist -click the link to go to the order page.
This is a new development of an old idea - a link belt without metal fasteners. This is highly effective on all lighter machine tools and especially useful on precision lathes and millers where a "softer" drive, free from vibration, is appropriate. The "A" size belt has been tested on lathes with motors up to 3/4 hp in size but is not recommended for underdrive machines such as Boxford, Viceroy, Cataract, Hardinge or the later Atlas and Craftsman 12-inch lathes. It is suitable for use on all Myford lathes with V-belt drive.
For small machine tools a Z, M or A section belt is usually required.
For link belting the Z and M sections have now been combined into a Z/M fitting.
For example, the primary drive (motor to countershaft) on a Myford ML7 or Super 7 is Z/M section, whilst the drive from countershaft to headstock spindle is A section. The A section belt is also used on Boxford, Atlas and many other small lathes and millers.
Width across the top surface - (though these dimensions can vary a little either way)
Z and Z/M-section 10mm (3/8")
A-section 13mm (1/2")
B-section 17mm (5/8")
All types of T-Link belting can be ordered in a minimum length of 0.5m (19.5"). A 1 metre length (39") would cover the needs of most model-engineering lathes - but please measure carefully first, before ordering.
All prices include post and VAT for UK. For EU and world-wide delivery the price is + £2 per metre.
Changing the spindle-drive belt on a Myford Super 7 (and other lathes) can be a long and awkward job. If you opt to use a Link Belt instead all this effort is eliminated. Because of its construction the drive is unable to achieve its resonance frequency: consequently, machines fitted with them often run more smoothly.
The belts have considerable elasticity compared to a standard V belt and, on first fitting, they are strung over the pulleys very tightly to help the links bed in; after 2-hours running the belt can be readjusted and will then stabilise for a long and reliable life. Prices include post and VAT.
The correct T-link drive belt for BOXFORD lathes, both Rear and Underdrive types, all models (normally 1.4m long):
MYFORD

Super 7 & ML7R

ML7

ML10

ML8

Belt from motor up to countershaft
"Z" Section 10mm wide
- makes the lathe run more smoothly on top speed -

£38 for T-Link (recommended)

£38 T-link (recommended)

£38 T-link Recommended)

--

Belt from countershaft down to headstock
"A" section 13 mm wide
- saves dismantling the headstock and countershaft -

£41.52 T-Link

Or £41.52 Power Twist

£34
for Power Twist (recommended)

£34
for Power Twist (recommended)

T-link £52.08 on the maker's stand (1.2 m) or £56.42 on a bench with a thick wooden top (1.3 m long)
**************************************************************************************************************************************************************************
ROUND BELTS - order online here
- in plastic & leather for lathes, millers, drills, sewing machines, treadle fretsaws, etc. -
For immediate delivery or technical advice phone: 01298-871633  (Fax 01298-872874) office hours 09:00 to 23:00 GMT
Thanks for sorting me out with the 4mm round belts. I am well pleased and pleasantly surprised with their performance. They run extremely smoothly at 13,000 rpm on the toolpost grinder. Andrew
We can supply any type of round belt - for any application made either endless or with a joiner.
ROUND PLASTIC BELTING:  This makes an excellent, long-life application for hard-working machines. The very best quality is made in Switzerland and is available in two types:
SOLID: – supplied either joined for self-installation
HOLLOW: - with a special mushroom-headed clip that allows do-it-yourself easy installation.

For £3.60 inc. VAT we can make a jigged joint in the solid belt – or it's possible to do it yourself with, for example, a hot knife or temperature-controlled soldering iron with a flat end.

The following diameters are available in solid or hollow sections; for the best grip choose the solid type.
Hollow belts require a fastener at £1.75 inclusive
Prices include post and VAT for UK and European delivery or inclusive of air-mail post for world-wide delivery.
Minimum order 1 metre.
Order SOLID round belts online here and HOLLOW round belts here
2 mm - £10.75 per metre (solid only)
3 mm - £10.75 per metre (solid only
4 mm - £13.95 per metre (solid only)
5 mm - £13.96 per metre (solid or hollow - commonly used on watchmakers', Unimat SL, DB200 & Unimat 3 lathes, Singer sewing machines, etc.)
6 mm - £14.94 per metre (solid or hollow)
7 mm - £15.95 per metre (solid only)
8 mm - £19.95 per metre (solid or hollow)
10 mm - £20.95 per metre (solid or hollow)
12 mm  - £21.55 per metre solid or hollow
15 mm - £24 per metre (solid only)
18 mm - £34 per metre (solid only)
20 mm - £45 per metre (solid only)
Hollow belts requires a single joiner (£1.75each inclusive)
Discounts for quantity
ROUND LEATHER BELTING: Early lathes, light-duty milling machines, drills, Singer and other makes of sewing machine and assorted power tools were often driven by a round leather belt, sometimes referred to in contemporary literature as a "gut" drive. This is still available and usually in stock for immediate delivery. Order online here
The belts are joined by a simple, pre-formed wire clip that is supplied with each order. A hole is made in each end of the belt with a sharpened nail and the clip threaded through.
Prices below include post, packing and VAT. Minimum order 1 metre.
Round leather belt: 3 mm nominal diameter: £12.75 per metre
Round leather belt: 5 mm nominal diameter: £12.75 per metre
Round leather belt: 6.5 mm nominal diameter: £13.75 per metre
Round leather belt: 8 mm nominal diameter: £16.75 per metre
Round leather belt: 9.5 mm nominal diameter: £18.75 per metre
Discounts for quantity
MINIATURE V-BELTS with 6 mm or 8 mm top width
Although these are produced by the manufacturer in small batches as demand occurs (and often on long lead times) we do keep in stock a range of useful sizes:
Please phone 01298-871633 for details
Standard V-BELTS and Miniature V Belts
- for lathes, millers, drills, sewing machines, etc. -
We can supply any type of conventional V belt, in any length. Please email or phone (01298-871633) for quotation  
Variable-speed Drive Belts
for lathes, millers, drills, sewing machines, etc.
We can usually source almost any type of wide, V-edged variable-speed transmission belt
Please Phone or E-Mail for an instant quotation for any width or length of belt
We can also make very narrow belts suitable for use on models
Export world-wide
Phone: 01298-871633
Fax: 01298-872874
e-mail: tony@lathes.co.uk

Postal Address
lathes.co.uk
Wardlow  Tideswell  BUXTON  Derbyshire  SK17 8RP  United Kingdom
   World-wide Postal Service
Lathes.co.uk Home Page
Lathes for Sale Millers, Grinders, Shapers for Sale Wood Lathes for Sale Lathe Buying Advice The Lathe - Parts Identification
Instruction Books & Manuals Machine Tool Catalogues Lathe Use - Hints and Tips Electrical Matters Flat, Round & Link Belt Supplies
Lathe & Home-workshop Books Lathe Accessories and Spares Screwcutting Fitting a New Chuck
<![if !supportEmptyParas]> <![endif]>
The Best Ski School in Verbier & Zermatt - Switzerland
europeansnowsport.com
professionally-qualified staff – many native English speakers
<![if !supportEmptyParas]> <![endif]>