YOU SPENT $2000 ON WHAT???
Page 1 -
Page 2
-
Page 3
-
Page 4
-
Page 5
-
Page 6
-
Page 7
-
February 11 2002
Having sold my Taiwanese 918 lathe, I was on the lookout for a reasonable second-hand machine. I was attracted by an advert to J&N Engineering, Machinery Rebuilders, in Fairfield.
They had a Schaublin 102 that I'd have given a home to, except it was a plain lathe and had no screwcutting gear. The cost of sourcing a replacement put me off that one right away.
However, they did have a Hercus (South Bend clone) 9" precision lathe. This one was going to be John Holroyd's (the owner) personal machine for home. They'd bought the entire stock of a closed technical college and had sold them all except this one, the pick of the litter. Roller bearing headstock, taper turning attachment, the works. However John is getting on a bit (OK, he's getting on a LOT) and he decided he didn't want to spend all day with machinery and go home to more machinery.
He'd got as far as stripping it for rebuilding and then got busy with other projects. I could take it away on the pallet for $1400. Alternatively, they would rebuild, repaint, assemble and align the machine for $2000 all up. I thought about the work involved, and decided to leave it to the professionals. At least I'd be getting new roller bearings and a great paint job in their new whizz-bang spray booth.
Two days later I accepted the deal and handed over $2000 cash.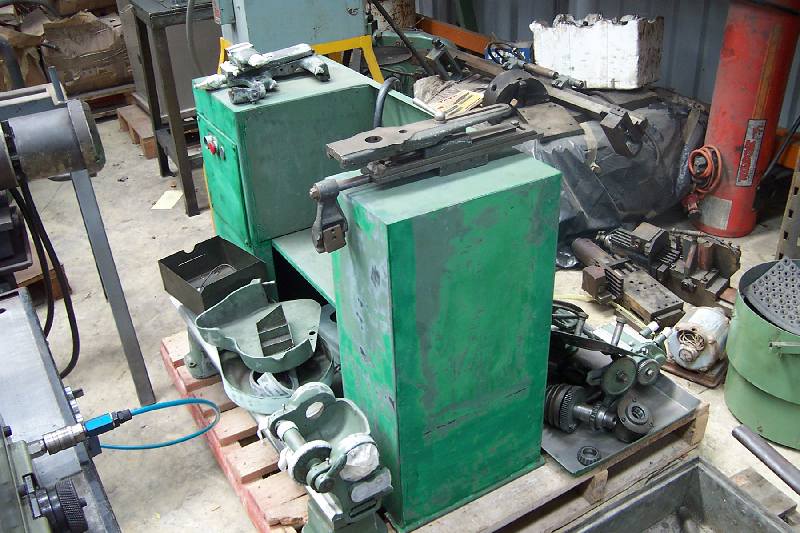 Here's the lathe on its pallet. It's been stripped and sanded ready for priming and painting. Doesn't look much, does it?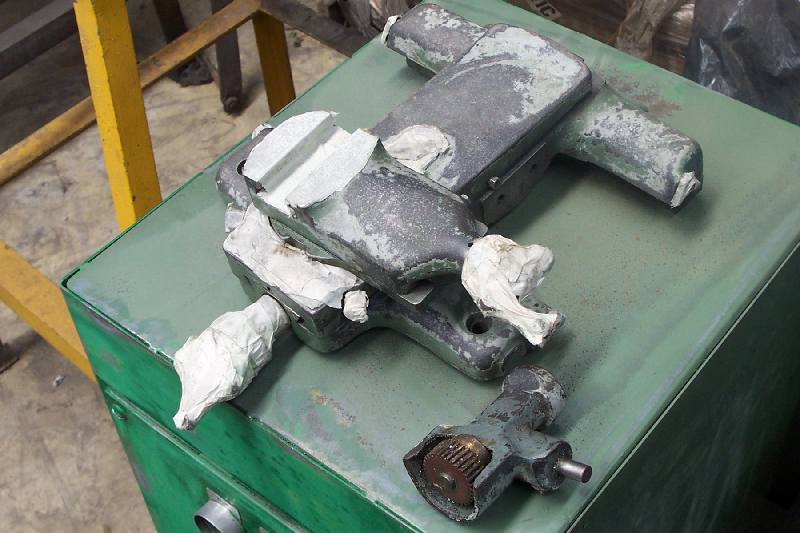 The filled and sanded saddle, cross slide and topslide. The thread dial indicator is an orphan - this is a metric lathe, and needs the long TDI with multiple gears on it. Anyone know where to lay their hands on one?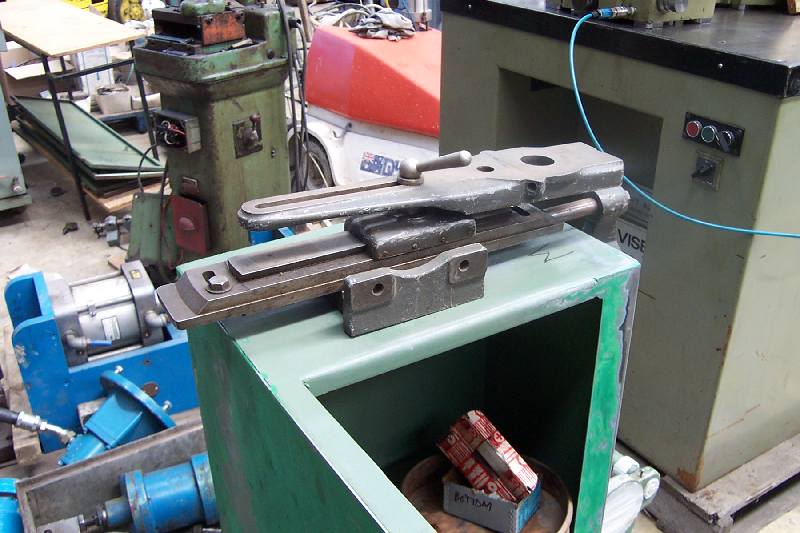 That which makes the purchase special - a genuine Hercus taper turning attachment, which is still available if you want to pay $1800 for one.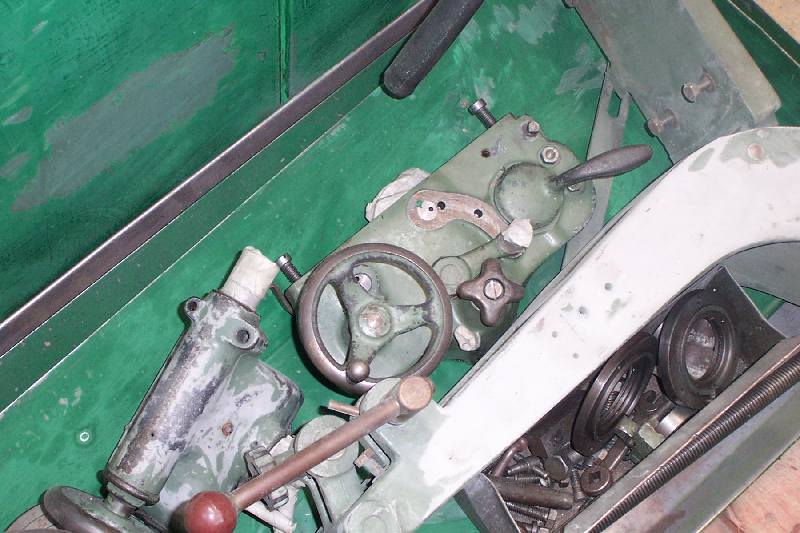 The tailstock, apron and countershaft belt cover. Nice to see it's the one with the power cross feed, and saddle handwheel on the side that God intended!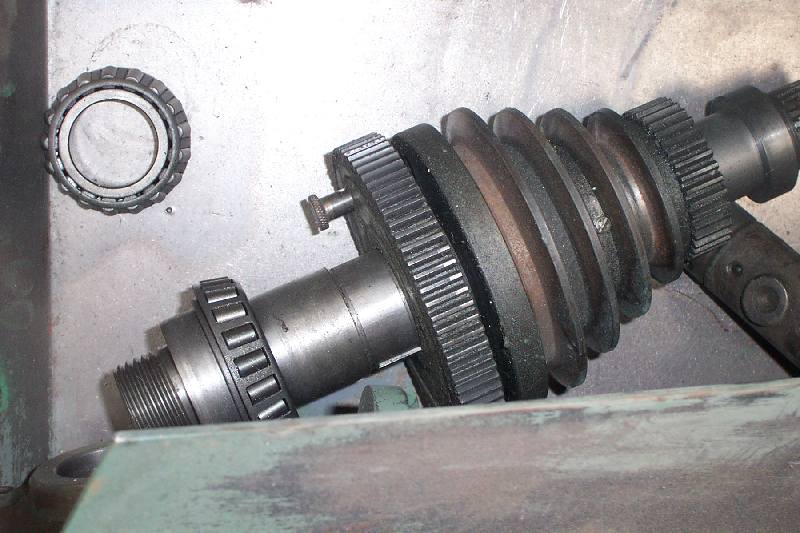 Roller bearing spindle. The back gear looks particularly nice and unworn/unabused. Of course the bearings are being replaced.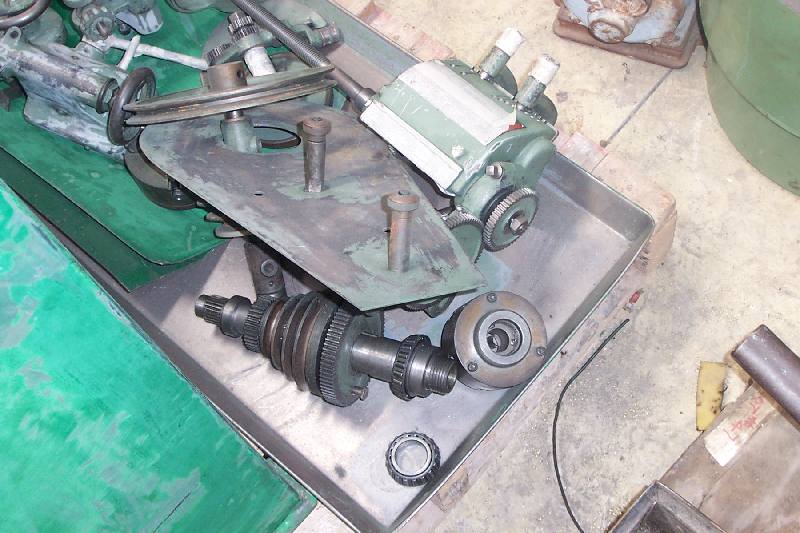 Countershaft, norton box, and 3mm pitch leadscrew. Might have to hunt for a 63 or 127 wheel to cut imperial threads. 4" three jaw, and a 5" four jaw next to the tailstock.
I've told John to take his time, I don't need the lathe before the end of next month. He says it should be ready well before then.
February 14 2002
I've ordered a Teco inverter, which will make using the machine a breeze. The lathe is an eight-speed - my old Smart and Brown was sixteen - but with the inverter I'll probably leave it on a middle pulley and dial in the speed I want. I wasn't able to pry the terminal box on the motor open to see if it has links for star/delta wiring - if it doesn't, a replacement motor will be cheap.
Watch this space and we'll see how the "after" photos turn out.
YOU SPENT $2000 ON WHAT???
Page 1 -
Page 2
-
Page 3
-
Page 4
-
Page 5
-
Page 6
-
Page 7
-